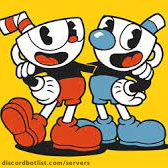 Cuphead Discord Server
0
Full Cuphead Server information, with invite link to join, along with Gaming channels and any related servers.
2
upvotes in March
The Cuphead Discord server has 2 online members and 2 upvotes.
Cuphead is a Gaming Discord Server.
Cuphead Discord Server Described
: Welcome! Here, we talk about Cuphead (Obviously), and have fun! There's plenty to do here and awesome people to meet, so join in on the fun!
A fan community about the indie game Cuphead. We're a small little community, and it would mean the world to make it a bit bigger. Chatting, Bots, Art, and more are present here. Come and enjoy this laid back little community.
Information
2
Online
5
Members
Similar Discord Servers
0
2 Online 4 Members
Welcome to the Cuphead fan server, show off your progress in Cuphead, talk about Cuphead, and even rp in the Cuphead universe!