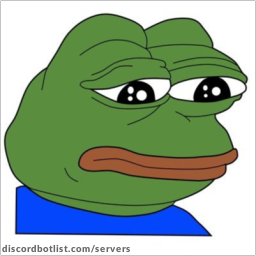 DANK WORLD Discord Server
0
Full DANK WORLD Server information, with invite link to join, along with Community channels and any related servers.
11
upvotes in March
The DANK WORLD Discord server has 33 online members and 11 upvotes.
DANK WORLD is a Community Discord Server.
DANK WORLD Discord Server Described
: We are a Dank Memer server. We have many bots and have daily giveaways and heists Join our server for fun and prizes
Rob and Heist is always disabled, so dont worry about being robbed😃
We have many bots like mudae, probot, etc.
We have daily giveaways.
Daily RARE PEPE , PEPEM AND PEPET GIVEAWAYS !!!
1 BILLION HEIST ON 500 MEMBERS
Join fast!!! 😇
Information
33
Online
65
Members
Similar Discord Servers
0
12,846 Online 124,352 Members
Here you can find wallpapers for your PC/mobile, or share your own with the community
0
24,379 Online 107,856 Members
Official server for the Roblox JJBA inspired game "World of Stands"