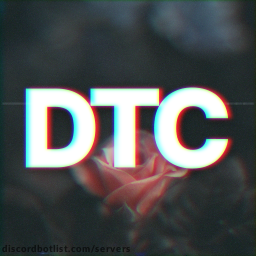 DankTem Community Discord Server
0
Full DankTem Community Server information, with invite link to join, along with Music channels and any related servers.
2
upvotes in April
The DankTem Community Discord server has 19 online members and 2 upvotes.
DankTem Community is a Music Discord Server.
DankTem Community Discord Server Described
: Looking for a good server to grind at? Well you've found a good server for it! Join Now!
୨ɞ ₊˚✦DankTem Community✦˚₊ ɞ୧
━═━═━━═━═━━═━═━━═━═━━═━═━
⋅ʚ♡ɞ⋅ » Server Info
Welcome to DankTem Community! This server is based on Dank Memer Bot, Khem's Video's, and also a place to grind. We also have a special bot (which we do not own) that could help you with Gambling!
We host giveaways and events such as Heist Events, Random item Giveaways, DMC Giveaways! We even disabled Rob and Bankrob to keep everyone's money safe, and only people that have Rob Access and Heist Access can heist/rob people! Don't worry we're not giving them to random's, unless if it's for events like Heists.
⋅ʚ♡ɞ⋅ » Server Features
We have so many features on this server like:
:art: Colored Roles
:blue_book: Self Roles
:handshake: Partnerships
:ok_hand: Suggestions
:robot: Fun and Really Cool Bots
:dollar: Trading Place
:gift: Dank Giveaways
:bank: Weekly Heist
:sparkles: and much more!
This server is highly inspired by Pepe Palace and Dank Dynasty of Infinite! Links are in the server's info channel.
⋅ʚ♡ɞ⋅ » Recommended Channel's
#📍୧°。guidelines Read our rules before going to other channels.
#🔊୧°。self-roles to receive Colored Roles and Ping Roles
#📷୧°。uploads to watch Khem's gameplay video's
━═━═━━═━═━━═━═━━═━═━━═━═━
What are you waiting for? Join Now!. Anyways, hope you enjoy your stay here!!
🔗 https://discord.gg/6H5Ap2BAds
🔗 https://probot.media/TpszJkB6Hp.gif
━═━═━━═━═━━═━═━━═━═━━═━═━
Information
19
Online
28
Members
Similar Discord Servers
1
70,971 Online 592,686 Members
Discord server made by Axiore for Axiore's fans. Feel free to join. We are a chill and relaxing community.
0
30,038 Online 244,505 Members
The official Discord for the Police Roleplay Community and Emergency Response: Liberty County on Roblox!