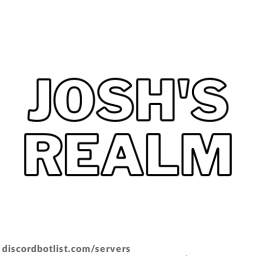 Joshua's Realm Discord Server
0
Full Joshua's Realm Server information, with invite link to join, along with Music channels and any related servers.
0
upvotes in March
The Joshua's Realm Discord server has 14 online members and 0 upvotes.
Joshua's Realm is a Music Discord Server.
Joshua's Realm | BOOST US! • Chill • Emotes • Nitro • Giveaways • Social Discord Server Described
: Joshua's Realm is the place of **Infinite possibilities!!** Come join now to find paths leading to new experiences!!
╔═══════════ ∘◦ ✾ ◦∘ ════════════╗
Welcome to:
Joshua's Realm Of Infinite Possibilities!
‿︵‿︵ʚ˚̣̣̣ɞ・❉・ ʚ˚̣̣̣ɞ‿︵‿︵
What do we Offer?
As a new server, we offer the Best
channels you have ever seen! As a
matter of fact, we have a channel for everything
You could have asked for, proving our point
Of our server having Infinite Possibilities!
‿︵‿︵ʚ˚̣̣̣ɞ・❉・ ʚ˚̣̣̣ɞ‿︵‿︵
What are we Looking for?
Helpful Staff
Super active Members
Nitro boosters
Bot Developers
And, of course, YOU!
‿︵‿︵ʚ˚̣̣̣ɞ・❉・ ʚ˚̣̣̣ɞ‿︵‿︵
Join now to discover paths you have never
** Seen before!**
╚═══════════ ∘◦ ❈ ◦∘ ════════════╝
Information
14
Online
33
Members
Similar Discord Servers
0
94,824 Online 739,706 Members
💬 Tons of cool people to meet! 🍥Active Server🎁 Frequent Giveaways 💌 A very-welcoming server 🔊 Fun Voice Chats!
0
37,024 Online 493,667 Members
This is a multi-purpose discord server for everyone to socialize, chill with other members, and make new friends.