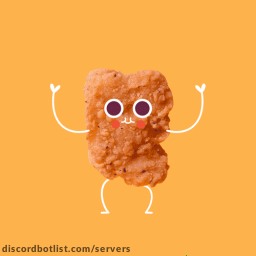 Nᴜɢɢᴇᴛ's Hᴏᴜsᴇ Discord Server
0
Full Nᴜɢɢᴇᴛ's Hᴏᴜsᴇ Server information, with invite link to join, along with Community channels and any related servers.
5
upvotes in March
The Nᴜɢɢᴇᴛ's Hᴏᴜsᴇ Discord server has 26 online members and 5 upvotes.
Nᴜɢɢᴇᴛ's Hᴏᴜsᴇ is a Community Discord Server.
Nᴜɢɢᴇᴛ's Hᴏᴜsᴇ Discord Server Described
: A server for gamers and non-gamers alike! We're a tight bunch of people who just like to have fun! Come join us!!
┎┈┈┈┈┈┈┈┈┈┈┈┈┈┈┈┈┈┈┒
Welcome to Nugget Gaming!
┖┈┈┈┈┈┈┈┈┈┈┈┈┈┈┈┈┈┈┚
We are a chill and friendly Discord Server that welcomes everyone to our family!

▁▁▁▁▁▁▁▁▁▁▁▁▁▁▁▁▁▁▁▁▁
Cool Facts About Us:
Many cool and welcoming people here that are always down to talk!
Active Owner and Staff here to keep the server in tip-top shape and keep the toxicity away!
A Rewards and Ranking System based on activity and typing in chat!
Lots of Gamers here with channels and voice chats ranging from Minecraft to Among Us!
And last but not least, people who will actually talk to you (I'm sure many of you have had experiences with big servers where you are completely ignored due to the mass amounts of people talking)
Come join our family, with friendly members and an Owner that will actually take the time to care for their server!
Information
26
Online
122
Members