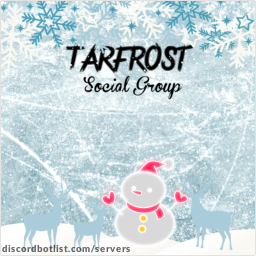 TarFrost Social Group Discord Server
0
Full TarFrost Social Group Server information, with invite link to join, along with Social channels and any related servers.
6
upvotes in March
The TarFrost Social Group Discord server has 7 online members and 6 upvotes.
TarFrost Social Group is a Social Discord Server.
TarFrost Social Group Discord Server Described
: A lovely community with loads of people you can become friends with!
Rank up by talking there is level 1 2 3 4 5 6 7 8 9 and 10 Make friends with people and chat in voice or on text Have fun exploring all the chat groups Play games with bots such as gartic You can apply for staff so long as you meet the required limits Our Staff are always free to answer any questions Share you pet pictures and art in our chat groups made for that
Information
7
Online
10
Members
Similar Discord Servers
0
37,024 Online 493,667 Members
This is a multi-purpose discord server for everyone to socialize, chill with other members, and make new friends.
5
34,519 Online 427,939 Members
18+ Young Adults. 1:1 Female/ Male Ratio. Active 24/7 chat and VC. https://discord.gg/sinful . IOS device watch to Join-> https://youtu.be/C2y8_hBfKok .Dating. Profiles. Social. Gaming. Egirl