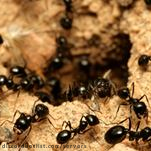 the ant colony Discord Server
0
Full the ant colony Server information, with invite link to join, along with Social channels and any related servers.
0
upvotes in March
The the ant colony Discord server has 2 online members and 0 upvotes.
the ant colony is a Social Discord Server.
the ant colony Discord Server Described
: we are ants. NO HUMANS you will be an ant when you join so it ok
(tone indicators are used for neurodivergent ants) greetings, human /g! interested in becoming higher then god? and ant perhaps? well, you're in luck! join the colony and you'll magically transform into a beautiful ant /hj! if you prove yourself to be of a high quality ant by time and not getting into trouble, you'll be upgraded to a royal ant/lord ant /g! have fun with your brand new identity thats higher then god /j!
Information
2
Online
2
Members
Similar Discord Servers
0
8,163 Online 232,921 Members
🐜The first mobile ant game in a real-time tactics style🐜Tap the link, and Play Now!!!➔https://theants.onelink.me/joe
0
2,770 Online 62,574 Members
Official discord server for Ariel Games: Pocket Ants and Pocket Bees. Available for Android and iOS.