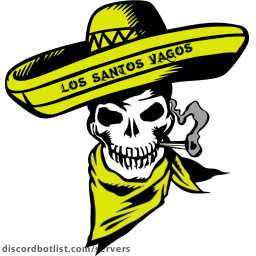 VAGOS Discord Server
0
Full VAGOS Server information, with invite link to join, along with Roleplay channels and any related servers.
5
upvotes in March
The VAGOS Discord server has 3 online members and 5 upvotes.
VAGOS is a Roleplay Discord Server.
VAGOS Discord Server Described
: This server is dedicated to VAGOS gang in OASIS ROLEPLAY GTA5
The Los Santos Vagos, also known as LSV or the Vagos, are a large Mexican street gang appearing in Grand Theft Auto V. They are said to be the largest Hispanic street gang in Los Santos and are rumored to have connections with some Mafia groups, according to The Underbelly Of Paradise TV program. Vagos are supporters of LS Pounders football team, as they wear different clothes with their logos and a yellow colour to match.
Information
3
Online
7
Members
Similar Discord Servers
0
20 Online 40 Members
╔══════════════════════════════════ ║ :waverp:WAVE ROLEPLAY ║══════════════════════════════════ ║:waverp: DISCORD - https://discord.gg/eNWnFZftmC ║═════════════
0
5 Online 30 Members
Five life rp est la pour faire passer un bon momment au joueur en rp il vien d ouvrir suite à des problèmes d'ou le peux de joueur.