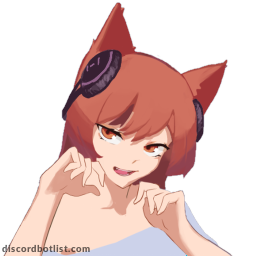 Upvote Amanda

An adorable music bot. Also featuring images, interactions with members and more
A qt music bot made for qts
Amanda can:
Play music
Interact with your fellow members
Show you cute cat pictures ༼ つ ◕ヮ◕ ༽つ
A premium feel
Her music player is designed to be functional and pleasing to look at. Amanda can play music from a very wide Array of mainstream sources and some not-so-mainstream sources, radio stations such as Frisky Radio, listen.moe, and even your own audio files! Can your daily driver bot do all of that for free? Yup, Amanda is 100% free. Crazy that we're not in it for a cash grab. In case you're suspicious of our intents of being 100% free, check out our privacy policy covering data and usage; Or, if you're tech savvy, you can read the source code in its entirety to make sure we're not making things up.
You're in control
You will never have to pay or vote on any website to be able to play any of your songs which Amanda supports (even though we'd appreciate any form of support). You are also given access to features you'd usually have to pay for, such as audio pitch and speed controls for free. This includes presets for nightcore and daycore.
She has a website that lets you see and manage what songs are playing in real time. It's been designed from the ground up for performance and security, insuring you have a no compromises experience.
Amanda is updated regularly with lots of ❤️ to deliver upon what is promised, which is quality and stability.
Commands
Amanda has a few commands to keep you busy! You can use /help to see everything she has to offer.
Here's some commands we've picked out for you:
| Command | Result |
| --- | --- |
| /play:despacito | Music player |
| /image type:cat | A cute cat picture |
| /hug user:amanda | > w < |
Check out the home page for the full
Discord Bot
List.