Collect League!
Collect League is a simple bot that allows you to collect League of Legends skins with your friends!
Every few minutes, Collect League will send a picture of a skin. The first person to type in the skin's name gets that champion! Use a variety of commands to see what champions you've collected, their skin lines, and more.
To collect a skin, simply type the name of the skin that appears. For example,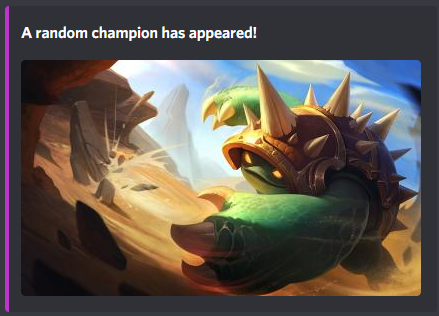 To collect Original Rammus here, simply type anything like "rammus" or "original Rammus". No commands or special formatting necessary!

Don't worry about things like capitals, "original", dashes, slashes, etc. The bot does the best it can to accept anything close to valid.

Commands




SETUP




.setchannel - Users with the Manage Channels role can type this in a text channel to change where Collect League sends splashes and read's user responses. YOU MUST USE THIS COMMAND IN A CHANNEL FOR THE BOT TO START SENDING SPLASH ARTS!

COLLECTION




.skins - Display of the skin lines you've collected.

.champs - Display of all the champions you've collected.

.list - Display of the exact skins you own.

Follow any command with a mention (@user) to see that users stats!

OTHER




.top - Displays the top users from across all servers.

Notes




Art, champions, and skin lines are all webscraped from https://leagueoflegends.fandom.com/. There may be small errors.

Please let me know about any bugs in the support server, https://discord.gg/ZuXkMdf2af

All art courtesy of Riot Games

Thank you for using my little passion project! I hope you like it :)

Check out the home page for the full Discord Bot List.