EmpyManager
No more tens of empty channels in your server!
Features
Create temporary channels
Your users can create channels by joining a room. They will get deleted once empty, leaving no empty channels in your server!

Have a (free) chat linked to your temporary channel that only connected users can see
It will get deleted with the room.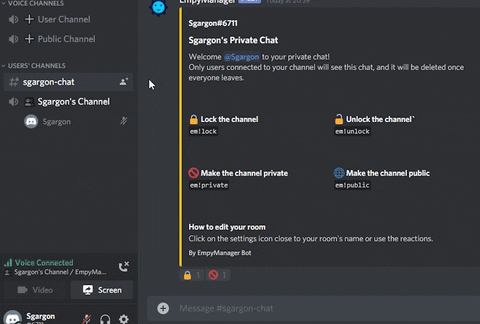 Use reactions to quickly edit your rooms making it private, public, locked and so on
Or let your users edit their own room through Discord's UI if you want to.

And much more!
No silly limitations like other bots, such as paid text channels.
Create more categories. They will be used to generate your temporary channels.
Customize category by category. You can choose settings for each category, such as voice template, text template, whether users can or cannot use text commands.
Channel logging. Logging saved in a per-channel handy .txt file.
The fastest. Using Discord .NET library, the fastest experience among other bots thanks to an advanced queue system that won't steal servers' resources.
Channel name, bitrate, user limit, mute, deafen, kick, ban, stop streaming and everything else. Channel owners can edit their room through Discord's UI or reaction commands.
Public, private, locked. Fully customization through reaction commands.
Advanced permission management. Choose what your users can do in their rooms for each room: edit channel name, edit permissions and use quick commands.
Why EmpyManager?
I've made EmpyManager because there was no other similar bot that, for free, provided the features I was looking for, such as:
More master channels.
Temporary text channels (most of the bots require you to subscribe for this feature and use commands to create a text channel, while everything here is automatic).
Channel counter increasing with each channel currently existing.
Users being able to fully customize their room's permissions with Discord's UI in a safe way.
Quick commands through reactions.
Getting started




First of all, you can see all the basic commands with em!help (if you are admin you will also see other special commands).

To get started, create your first master channel with em!new. You can specify a template: if you want the channels created from that to be personal (user with full permissions) type em!new private, if you don't want that (user with standard permissions) type em!new public (Don't worry! You can change them later and customize them more with other commands, see below).

You can see your master channels with em!masterlist. To remove one, delete the channel or type em!settings master [channel-id] to disable one.

Don't you like em! as bot's prefix? You change it with em!settings prefix [new-prefix].

Advanced Settings




To see all the settings, type em!settings.

How do I prevent the bot from creating text channels for normal voice channels?




em!settings normalChannelText off

How do I prevent the bot from creating text channels for temporary voice channels?




em!settings userChannelText off

How do I change the default name for the channels created from a specific master channel (or category)?




em!settings template <master-channel-id> voice <your-new-template>

You can use %owner% in your template and it will get replaced with the temporary channel owner's name, and you can use %counter% and it will be given a number accordingly to the other existing channels from that master channel.

To get a master channel id, you have more options: follow this guide, right click on it and click "Copy ID", or type it em!masterlist and get it from the list.

If you have more questions, please join the bot's official Discord Server to get direct support from the dev.

Check out the home page for the full Discord Bot List.