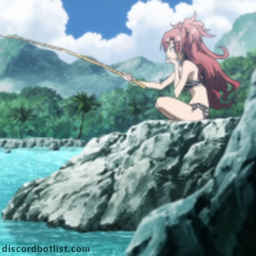 Upvote fishbot

A fun fishing game where you catch and sell fish to level up your fishing rod and boat to explore new locations!
fishbot
New
CRATES & GOLD FISH HAVE BEEN ADDED!
Gold fish have a 1% chance of being caught, but they give x100 more coins!
Crates have a 3% chance of being fished. The higher rarity crate, the more coins it gives, but it will take longer to open.
Info
A fishing game with daily rewards, endless fun, and grinding. The game is updated daily to ensure there is always something to do. There are different locations to explore by upgrading your boat level. Each location has different fish that sell for more coins. Your rod can snap if you do not upgrade it enough and try to catch a too big fish. You can also fish up crates that will take time to open. If you are extremely lucky you can fish up a GOLD fish that will give you x100 the coins!
Tutorial
Start off by typing !cast to cast your rod. Wait until a fish bites your rod to type !reel to reel in your line. Keep repeating the process until you are able to upgrade your boat by typing !upgrade. Once you upgrade your boat you can switch locations with !location <location>.
Check out the home page for the full
Discord Bot
List.