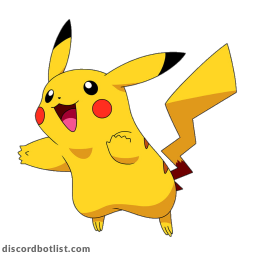 Upvote King Of Pokémons

Bot with some nice commands still in progress.
King Of Pokémons
Bot with small commands that you can't find in big bots.
Why choose this bot?
Bot have lot of small cool commands
Bot is still in made so it will have updates
We will listen to community and we will always try to add new commands suggested by it
Current commands list
p!help
All commands!
p!bal
To look at your balance!
p!user-bal [mention user]
To look at users balance!
p!pay [user] [coin amount]
Pay User Some Coins!
p!emotes
Emotes List! (Just write :emojiname: to use emojis!)
p!poll [question]
Create Poll!
p!bet [coin ammount you want to bet]
Classic bet! Win or lose!
p!profilepic [mention user]
Get profile picture of choosen user! (it will look better soon it is beta now)
p!shop
Get list of items in shop!
p!buy [item]
Buy something from shop!
p!wumpus
Get extreme love from wumpus! (note: you need to buy wumpus first to use it!)
p!inv
To look at your inventory!
p!serverinfo
Displays some info about the server.
p!userinfo [mention user]
Displays some info about specified user.
and More!
Check out the home page for the full
Discord Bot
List.