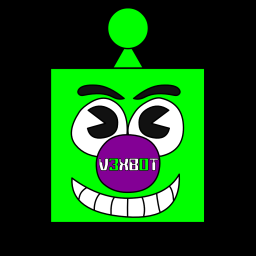 V3XB0T Discord Bot
0
Full V3XB0T Bot guide, with invite link to add to your server, along with Fun commands and any Discord bot upvote rewards.
0
upvotes in March
V3XB0T Discord Bot Described
: V3XB0T is a multi-purpose bot that you can talk to through the use of Cleverbot. You can also listen to music, set your own server prefix, convert time zones, and more!
V3XB0T is a multi-purpose that aims to bring every command you've ever wanted in a bot right to your server's door. V3XB0T is very limited to what it can say because of its Cleverbot API installation, so we'll just give you a run down of what V3XB0T can do for you and your server:
Here's What V3XB0T Can Do
Moderation
Kick, Ban/Unban/Ban List, Mute/Unmute, Purge, User Activity (Last Tex/Voice Chat), Warn/Warnings List, Add/Remove/Rename/Color Role
Utility
Help, Change Nickname, Bot Ping, Pokédex, Time Converter, Bot Uptime, Search Minecraft Server Stats, Weather
Poll
Ask a question and add anywhere between 2-10 options.
Music
Play, Pause, Resume, Skip, Volume, Queue, Leave
Images
Find A User's Avatar, Hug Generator
Fun
8ball, ASCII Text Converter, Clap/Reverse Text, Coinflip, Dice, Jokes, Minesweeper, Trivia, Urban Dictionary, Rubik's Cube Scrambler/Timer/Solver
Points
Check Level/XP, View Leaderboard
Counting Game
Users count in the server until someone types the wrong number; then they restart counting from 1.
Logging
General, Moderation, Ticket
Cleverbot
Ticket System (w/ Ticket Log Support)
Proxies For Plural System Use
Member Counts (User & Bot)
Reaction Roles
Word Filters
Voice-Text Linking
Applications
& more!
*If you get confused along the way, just use "vex.help" to show you how to work the command(s).
Check out the home page for the full
Discord Bot
List.
Frequently Asked Questions
How do I add V3XB0T Discord Bot to my server?
You can add V3XB0T to your Discord Server by pressing 'Add V3XB0T Discord Bot' on this page.