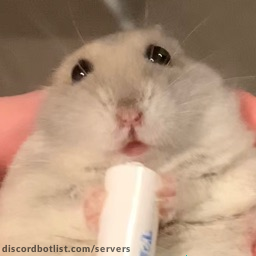 Biscuit My Hamster Discord Server
0
Full Biscuit My Hamster Server information, with invite link to join, along with any related servers.
0
upvotes in March
The Biscuit My Hamster Discord server has 4.37k online members and 0 upvotes.


Biscuit My Hamster Discord Server Described
: The largest hamster server on Discord! We advocate for species-appropriate care and provide many resources to help 🐹

This community is all about hamsters and how to properly care for them! The 'mascot' of our server is the famous and cute hamster, Biscuit, known as 'Biscuitmyhamster' on Instagram, Tiktok, and Twitter.
Our server offers a variety of proper hamster care channels. We aim to help new hamster owners by offering advice and providing resources to ensure their hamsters are happy and thriving! There's something for everyone here, even if you yourself do not own a hamster. Many members join for the funny and adorable emotes and stickers of Biscuit, as well as behind-the-scenes videos of him that haven't been shared on other social media sites yet.
Although our community continues to grow we make sure to keep the atmosphere cozy and friendly, and love to see members bonding over shared interests in gaming, art, and of course, hamsters!
Information
4,371
Online
19,451
Members
Similar Discord Servers
0
163 Online 1,435 Members
Space Hamsters NFT! Race your hamsters for royalties, get rewarded with weekly star-coin drops, receive weekly space checks, and much more!
0
44 Online 126 Members
Official server for BiscuitGoingNuclear! Come in and find places to chat and game!