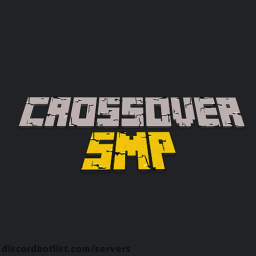 Crossover SMP Discord Server
0
Full Crossover SMP Server information, with invite link to join, along with Gaming channels and any related servers.
3
upvotes in March
The Crossover SMP Discord server has 51 online members and 3 upvotes.
Crossover SMP is a Gaming Discord Server.
Crossover SMP Discord Server Described
: Crossover Smp, a Minecraft Server, crossplay between Java and Bedrock.
➥ What is this server about?
This server is a Crossover between minecraft Java and Minecraft pe.
➥ Are you bored? If you are bored we have allot of games to play on our discord server! And you can join our Minecraft Server to have more fun !
➥ Did someone said something bad? If someone said something bad then message the staff team, they will surely take an action on them !
➥ Want to know more about our server? If you want to know more about our server then go to #about
➥ See you in Server
Information
51
Online
199
Members
Similar Discord Servers
0
12,082 Online 116,320 Members
DonutSMP is a Hardcore Minecraft SMP Server where griefing and stealing is ALLOWED!
0
11,737 Online 77,008 Members
ManaCube is a massively fun Java Minecraft network