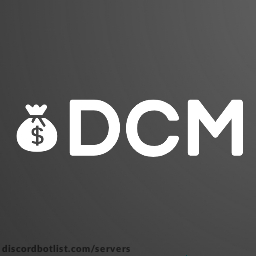 Dicords Central Market© Advertising Community Discord Server
0
Full Dicords Central Market© Advertising Community Server information, with invite link to join, along with Business channels and any related servers.
4
upvotes in March
The Dicords Central Market© Advertising Community Discord server has 22 online members and 4 upvotes.
Dicords Central Market© Advertising Community is a Business Discord Server.
Dicords Central Market© Advertising Community | •𝙁𝙧𝙚𝙚 𝙎𝙚𝙡𝙛-𝙋𝙧𝙤𝙢𝙤 •𝙂𝙞𝙫𝙚𝙖𝙬𝙖𝙮𝙨 and more! Discord Server Described
: Welcome to DCM. In this server you can advertise all of your servers, social media and online goods as much as you want!
You want to join an amazing community of Sellers and Discord Advertisers?
We got you sorted!
Welcome to **DCM **(Discord's Central Market)
We have…
➔ A non toxic community that would be delighted to help your Discord server GROW
➔ An amazing staff team that is always there and will help you
➔ Many entertaining events (Movie Nights, Game Nights) and amazing opportunities
➔ A lot of upcoming giveaways!
What we offer…
➔ 30+ channels to advertise your Discord Servers, Social Media and other platforms
➔ 10+ channels to Sell and Profit from selling Digital goods and or Products on our server
(please read our # 〡policies channel before starting to buy or sell stuff)
➔ Business help channels (guides to grow your Business)
➔ Social media help channels (guides to grow your Discord server(s) or social media)
What else do we have?
Over 30+ advertising channels to advertise grow your server ❗️
Specific channels to find partners, staff, jobs, PMs, booster and more
Multiple rewards for inviting people, boosting and other
An awesome time in the community for
A LOT OF UPCOMING giveeaways!
And more!
---
So what do you say? We hope to hear from you soon!
Information
22
Online
40
Members
Similar Discord Servers
0
70,971 Online 592,686 Members
Discord server made by Axiore for Axiore's fans. Feel free to join. We are a chill and relaxing community.
0
30,038 Online 244,505 Members
The official Discord for the Police Roleplay Community and Emergency Response: Liberty County on Roblox!