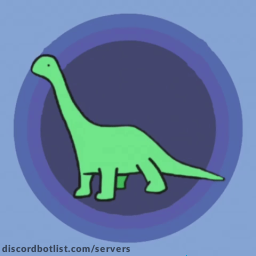 Dinosaurs Archive Discord Server
0
Full Dinosaurs Archive Server information, with invite link to join, along with Community channels and any related servers.
9
upvotes in March
The Dinosaurs Archive Discord server has 399 online members and 9 upvotes.
Dinosaurs Archive is a Community Discord Server.
Dinosaurs Archive Discord Server Described
: Dinosaurs is a community server where you can socialize with other users and make new friends! Come join us! :3
➤ Welcome to Dinosaurs!
• We are a community server focused on members chatting with other Discord users and expressing themselves! We have many fun bots, an amazing leveling system, an active chat, and so much more to discover! We host frequent events and giveaways, and some of them have a Nitro prize! 🎉
⁞ Here's what Dinosaurs has to offer:
» A friendly and caring community
» Different channels for different interests
» Fun bots such as Dank Memer, LogiBot, OwO, Yggdrasil, and so much more
» Dank Memer Premium and rob/heist disabled.
» A leveling system with unlockable perks
» Epic events and giveaways, some with a Nitro prize
» An organized server and setup
» A helpful staff team to assist you with whatever server-related concerns you may have!
» Much more to be discovered!
♦ We are very appreciative of server voters/boosters / inviters and offer great perks for those to choose to support the server through one of those methods.
★ We would be thrilled to have you be a part of this wonderful community! Come join us if you don't want to miss out!
Information
399
Online
4,809
Members
Similar Discord Servers
0
5,968 Online 53,469 Members
──🎍 ꒰꒰ nezuko box's — is an animanga, gaming, and artist friendly community with 450+ custom emotes and nice aesthetic!