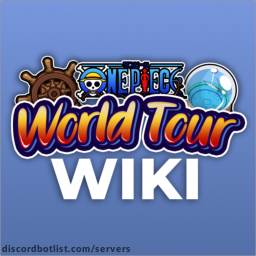 ❓ [WIKI] OP World Tour Discord Server
0
Full ❓ [WIKI] OP World Tour Server information, with invite link to join, along with any related servers.
0
upvotes in March
The ❓ [WIKI] OP World Tour Discord server has 3.75k online members and 0 upvotes.


❓ [WIKI] OP World Tour Discord Server Described
: Official Koya's One Piece World Tour wiki. Join us discussing about the game or get help!

Join official Wiki of the One Piece World Tour game on Discord!

Our server is here to help new players understanding how the game works and can ask for further help if needed.

The server includes channels to get help and make new suggestions, it also includes channels where you can play with other members.
Information
3,748
Online
28,788
Members
Similar Discord Servers
0
34,300 Online 344,328 Members
A server for the Discord YouTuber SoundDrout! Website: https://sounddrout.com/
0
7,327 Online 210,923 Members
Welcome to the official Discord server of Critical Ops! C-OPS is a 3D MULTIPLAYER FPS game for mobile. Come Frag w us!