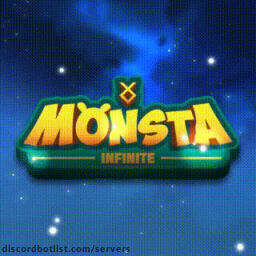 Monsta Infinite Discord Server
0
Full Monsta Infinite Server information, with invite link to join, along with any related servers.
0
upvotes in March
The Monsta Infinite Discord server has 7.67k online members and 0 upvotes.


Monsta Infinite Discord Server Described
: Monsta Infinite is a Play-To-Earn turn-based card NFT game built on #Blockchain. Running on #BinanceSmartChain!

We started as a GameFi project, with the ambition to build a game with the latest blockchain technology, equipped with key features, well-thought-out tokenomics, sustainable tokens, and NFTs that will fill the void in other GameFi's currently out in the market. As we journeyed along with the development, we saw the gaps within the cryptocurrency industry, and there we made the pledge, and there the question was "why stop at just GameFi?". So, we shaped both our mindsets and business model to begin paving the way for a faster, low-cost, sustainable, and decentralised blockchain platform for new crypto projects to thrive. The blockchain community is a growing community with a lot of potential, we believe that there will always be new contributions to the industry. Be it, big or small, all contributions are crucial to the mass adoption of cryptocurrency, the development of a sustainable and decentralised future that will benefit the current and future generations to come.
Information
7,674
Online
90,502
Members
Similar Discord Servers
0
21,093 Online 90,030 Members
The Steam community on Reddit. Not affiliated with Valve Corporation.
0
16,373 Online 73,395 Members
The official Discord server for No Man's Sky. Join us for news, help, community events & grouping up with other players!