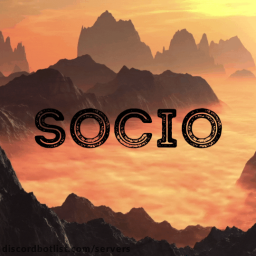 Socio Discord Server
0
Full Socio Server information, with invite link to join, along with any related servers.
0
upvotes in March
The Socio Discord server has 1.82k online members and 0 upvotes.


Socio | Gaming • Emotes • Nitro • Social • Music • Giveaways • Memes • Hangout Discord Server Described
: Socio is an active chat for gamers, socialites, and more, with nitro giveaways, emotes, gaming, music, memes, and more!

Socio is a multipurpose general discord server with a variety of chatters and activities to do while interacting with members. Join if you're looking for a group of people to hang out with online and explore all there is to during your time in the server. Join the voice chats, text in the channels and keep up with weekly events.
Information
1,824
Online
29,533
Members
Similar Discord Servers
0
94,824 Online 739,706 Members
💬 Tons of cool people to meet! 🍥Active Server🎁 Frequent Giveaways 💌 A very-welcoming server 🔊 Fun Voice Chats!
0
37,024 Online 493,667 Members
This is a multi-purpose discord server for everyone to socialize, chill with other members, and make new friends.