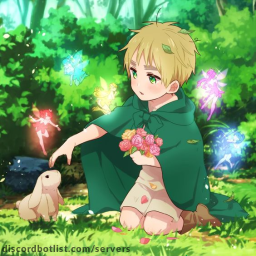 The Seventh Circle of Hetalia Discord Server
0
Full The Seventh Circle of Hetalia Server information, with invite link to join, along with Anime channels and any related servers.
24
upvotes in March
The The Seventh Circle of Hetalia Discord server has 37 online members and 24 upvotes.
The Seventh Circle of Hetalia is a Anime Discord Server.
The Seventh Circle of Hetalia Discord Server Described
: A 13+ Hetalia server with an 18+ section, RP section, and a wide array of general channels and bots to play with! (Weekly events returning soon)
ੈ✩‧₊˚ Welcome to The Seventh Circle of Hetalia! ✧.*
🌈Boost Lvl. 2 | LGBTQIAP+ Safe Space | 13+ w/ 18+ area🌈
We're a chill and active community/RP server based on the anime Hetalia. If you need a place to make friends and meet RP partners, come check us out!
╰┈➤ Some bots that we make use of:
➛ Birthday Bot
➛ EasyPoll
➛ Friend Time
➛ Karuta
➛ MarriageBot
➛ Mudae
➛ Peter!
➛ Pokétwo
➛ Tupperbox
➛ TweetShift
● Weekly events on temporary hiatus ●
● Seasonal events year-round ●
Information
37
Online
137
Members
Similar Discord Servers
0
9,808 Online 48,271 Members
Official Discord of the skate. franchise and the upcoming skate. release from Full Circle Studios/EA.
0
7,154 Online 39,270 Members
Requiem is a gaming community. We provide a safe environment that allow you to enjoy the games you love with friends.