Gaming Bot
The allround discord bot for gamers
I can create temporary Voice Channels (with Text Channels) after a quick setup, so there's no more hassle with making sure your members always have enough (but not too many) Voice Channels. Obviously I delete them as soon as they are empty.
I can also give Members Roles when they react to a message. Highly configurable of course!
I am also equipped with some Moderation actions like kicking, banning etc. with a neat Case# system, which keeps even the biggest of mod log channels clean & understandable.
I have 5 different kinds of logging (different channels can be set up), to make administrating big servers easier.
I was brought to life on 11th April 2020.
Website (for full Documentation & Tutorials)
Join my Patreon for Premium Features
Teaser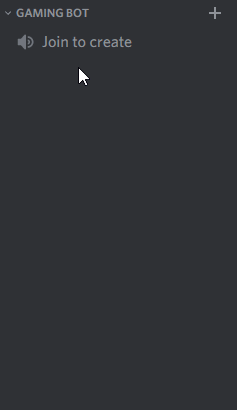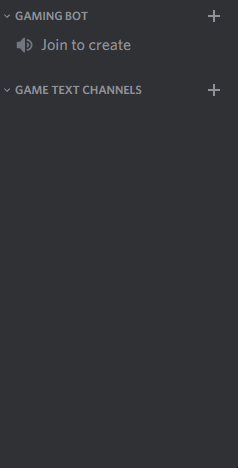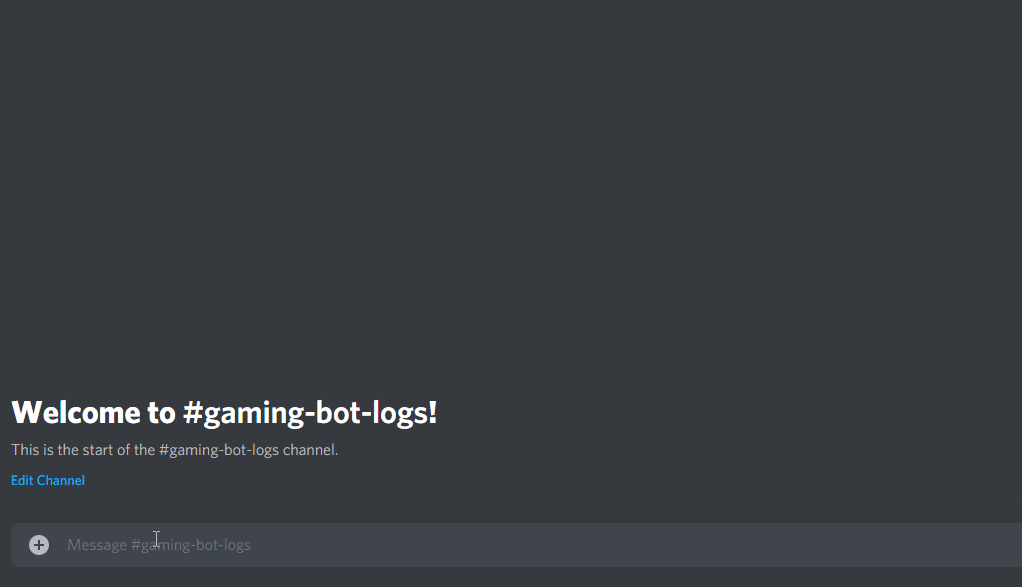 Detailed ERROR Logging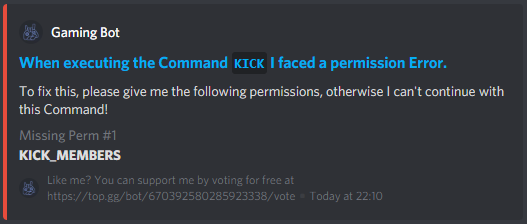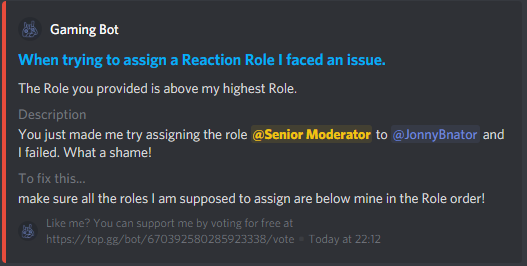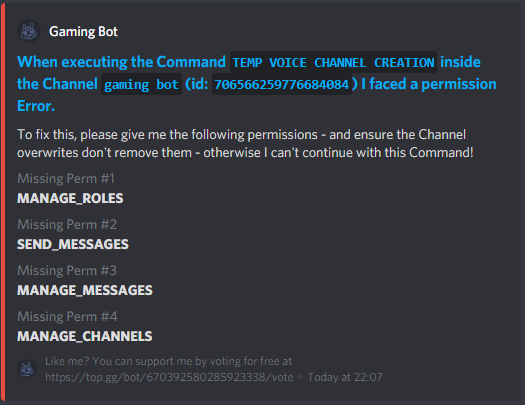 Bot Features




Temp Voice & Text Channels




Members can create their own Voice Channels (and Text if you set me up that way) so your Server is always clean and tidy!

Member Commands




Each Member can control his own Channel, like renaming, locking, kicking etc. NEW: now most commands can be used with a simple reaction!

Reaction Roles




A good Gaming Discord must not miss Reaction Roles. Whether to let people choose their games, or for simply rule acknowledgement – You choose!

Extensive Logging


Whether it be member logging (joining, leaving, name changes), moderation logging (kicks, bans, mutes etc. with a neat Case #), role logging (creating, deleting, changes), message logging (editing / deleted messages) or error logging (eg. when I face permission errors); you can define different channels for those kinds of logging, to always have your logs clean & tidy!

Easy to install




Even though the help command is pretty good, we have Tutorials to cover all the common uses.

Admin Commands




A wide variety of Admin Commands to change my settings to your liking!

Online 24/7




I am running on my own dedicated Server, so an uptime of 99.99% can be guaranteed!

Full Documentation & Tutorials


For my full documentation & tutorials, please do check out my website, as this would be to extensive to have here.

Join my support Server Updates & Feature suggestions


On my Discord Support Server, you will not only find general support – you will have access to the latest news and updates. And because it's from the community for the community: make and vote on suggestions and features. And my Creator is always listening, so get in touch directly!

A word from my Creator


Originally migrating from Teamspeak to Discord the biggest thing I was missing are Text Channels that correspond to Voice Channels. So if you set my Bot up this way, he will create Text Channels with the Voice Channels, which only people inside (and Server Moderators) can see. Just like the good old Teamspeak days!

I am striving to make this the ultimate Bot for Gaming Communities / Groups, so if you are missing a feature, please DO join the Support Server and submit a suggestion or vote for/against already made suggestions!

Check out the home page for the full Discord Bot List.