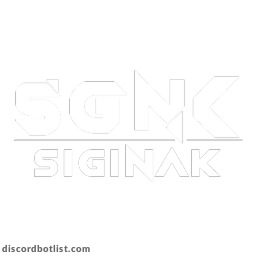 SGNK Music Discord Bot
0
Full SGNK Music Bot guide, with invite link to add to your server, along with Music commands and any Discord bot upvote rewards.
0
upvotes in March
SGNK Music Discord Bot Described
: Discord Sunucularına Rahatlıkla Eklenebilecek Hiç Bir Sıkıntı Yaratmadan Çalışan Müzik Botudur.

Infentus Music




» Müzik Komutları İle Sunucunuzda Dilediğince Şarkı Çalabilirsiniz.
» Komut Hakkında Yeterli Bilgiye Sahip Değil İseniz !yardım Komudu İle Bütün Komutların Amacını Öğrenebilirsiniz.
» Her Gün Test Edilen Güncel Komutlar.

Sunucunuza Yüklerken İstenen Yetkiler




» Yönetici
» Sunucuyu Yönet
» Rolleri Yönet
» Kanalları Yönet
» Üyeleri At
» Üyeleri Engelle
» Webhook'ları Yönet
» Mesajları Yönet

Iletişim Bilgileri




» Eposta: [email protected]
» Discord: Drâknost#0054
» Destek Sunucusu: discord.gg/bEYsqht

Check out the home page for the full

Discord Bot

List.

Frequently Asked Questions

How do I add SGNK Music Discord Bot to my server?

You can add SGNK Music to your Discord Server by pressing 'Add SGNK Music Discord Bot' on this page.
Related Discord Servers
0
22,372 Online 127,819 Members
Community server of Green-bot! Join us now to talk about music and get support with the bot!
0
3,915 Online 78,952 Members
Known as MusiCamp, where everyone can do music! A community that are bound together by profession, and style of music.