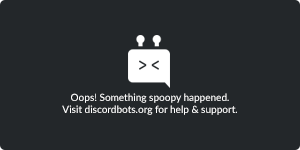 Jeb bot by Hk.
Now at version 1.1! Do #updates for update log.
Curently in development. Fun and random Jebediah Kerman bot. Multipurpose KSP bot for fun,Levelling and Moderation. Capabilities include flare function, strike, ticketing (WIP), role adding and removal, and welcome system. Moderation is WIP and will be fully completed, with logging soon. Plus some fun commands, such as #opinion. More general Commands coming up. For custom commands, simply add bot to server and DM me details.
#jebhelp for main help menu.
Have fun piloting SSTOs with him;)
Help menu:
Rank card
Check out the home page for the full Discord Bot List.