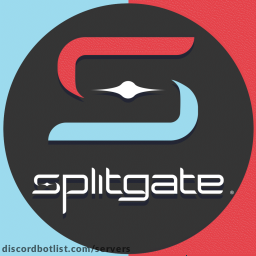 Splitgate Discord Server
0
Full Splitgate Server information, with invite link to join, along with any related servers.
0
upvotes in March
The Splitgate Discord server has 44.3k online members and 0 upvotes.


Splitgate Discord Server Described
: Welcome to the Splitgate Discord! Splitgate is the brand new arena FPS with portals. F2P on PC and Console NOW!

In this server we are trying to build a large community based around the game Splitgate. Although this is a Splitgate server, we have many channels for a multitude of different subjects such as anime, music, art and pets.

As well as this we hold biweekly giveaways for Discord Nitro, and also a trimonthly Splitgate merch giveaway.

We try and hold many different community events in the Splitgate server raging from game nights to movie nights to get everyone involved!

You can also give new idea's towards the next game in the Splitgate universe in a channel that developers will read over!!
Information
44,345
Online
421,209
Members
Similar Discord Servers
0
64 Online 315 Members
Party server with Dank Memer Premium and tons of gamer roles! ~ACTIVE MEMBERS~
0
18 Online 31 Members
A fun gaming community based mainly on Splitgate!