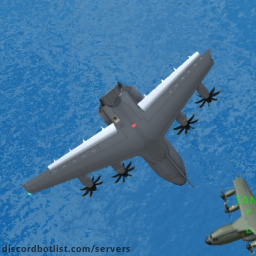 TFS Air Disasters Discord Server
0
Full TFS Air Disasters Server information, with invite link to join, along with Music channels and any related servers.
1
upvotes in March
The TFS Air Disasters Discord server has 5 online members and 1 upvotes.
TFS Air Disasters is a Music Discord Server.
TFS Air Disasters Discord Server Described
: Just a small community with TFS (Turboprop Flight Simulator) topics.
We are currently a small community and would be happy if you join! There are random Giveaways, and we are speaking about Turboprop Flight Simulator. I hope we'll see you!
April, 3th
Information
5
Online
14
Members
Similar Discord Servers
0
20,771 Online 59,798 Members
Welcome to a community with fans of SPY X FAMILY, a heart-warming comedy series by Tatsuya Endo!
0
10,558 Online 32,092 Members
This is the official DCS World by Eagle Dynamics Discord server. The leading developer of combat flight simulations.