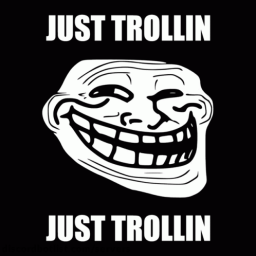 Troll Discord Server
0
Full Troll Server information, with invite link to join, along with any related servers.
0
upvotes in March
The Troll Discord server has 27.6k online members and 0 upvotes.


Troll | Trollface Emotes, Nitro Emojis, Stickers & Community Events Discord Server Described
: Your home for your favorite trollface emotes. We do a little trolling, gaming, chatting & I'm living in your walls. Run.

Troll is a community of people who like to have fun, shitpost (yes you can post memes in general, shock), participate in events and just generally hang out, we have a wide variety of Troll emojis (we can't even add any more), we have a staff team who are reasonable and generally chill as long as you are too! Come join and hang out with us o/
Information
27,641
Online
109,059
Members
Similar Discord Servers
0
94,824 Online 739,706 Members
💬 Tons of cool people to meet! 🍥Active Server🎁 Frequent Giveaways 💌 A very-welcoming server 🔊 Fun Voice Chats!
0
70,971 Online 592,686 Members
Discord server made by Axiore for Axiore's fans. Feel free to join. We are a chill and relaxing community.