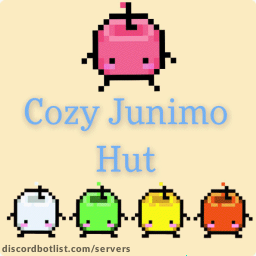 Cozy Junimo Hut👾 Discord Server
0
Full Cozy Junimo Hut👾 Server information, with invite link to join, along with Gaming channels and any related servers.
113
upvotes in March
The Cozy Junimo Hut👾 Discord server has 262 online members and 113 upvotes.
Cozy Junimo Hut👾 is a Gaming Discord Server.
Cozy Junimo Hut👾 Discord Server Described
: A discord for people who love Stardew Valley!
We're just a group of people formed to help each other with any SDV questions or problems and maybe make some friends on the way!
We offer:
-Level 3 server boosted perks
-A very diverse and welcoming staff
-LGBT & System friendly
-weekly movie nights and game nights
-server shop with an economy system
-Piggy battlefield plugin, birthday plugin, self assignable roles
-Evelyn's Corner for life advice and wholesome content
-Willy's fishing boat, the quarry, and the secret woods
-The Calico Desert, the Adventurer's Guild and the Casino
-Caroline's dance floor and Marnie's shop
-Monthly giveaways!
-daily polls and games with bots
-Co-op channel for all platforms
-Server partnerships
-Virtual pet bot and Dank Memer bot!
-a counting channel
and so much more!
Information
262
Online
1,553
Members
Similar Discord Servers
0
70,432 Online 284,292 Members
Join the growing VRChat community as you explore, play, and create the future of social VR!
0
22,057 Online 112,399 Members
Chill Anime Community ⭐ 24/7 Music Bots ⭐ Find Friends ⭐ 500+ Epic Emotes ⭐ Nitro Giveaways ⭐ Events ⭐ Chatting ⭐ Memes